Info for New and Current Postdocs, Prospective Postdocs, and Postdoc Alumni
One of the main goals of the UIC Office of Postdoctoral Affairs (OPA) and Postdoctoral Association (PDA) is to build a vibrant and engaged postdoc community within UIC, while providing outstanding research, career, and professional development training activities for postdocs. We also actively collaborate with other Chicago-area and Big Ten institutions to expand opportunities for postdocs.
Scroll down to find resources if you are a prospective postdoc or a new postdoc at UIC, as well as resources for our diverse community of postdocs and alumni.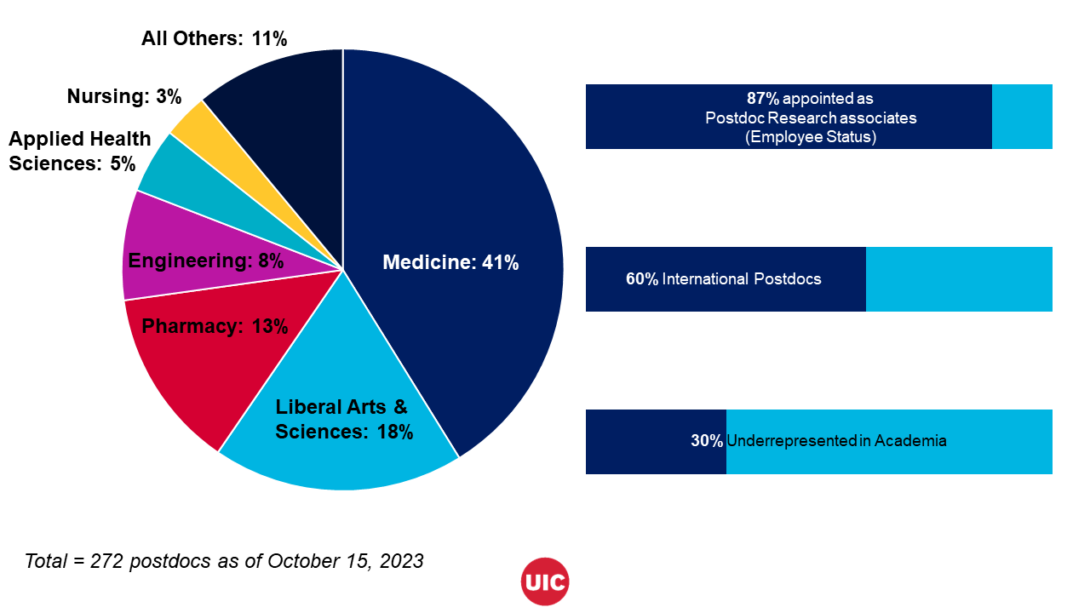 Although the majority of postdocs at UIC are in biomedical fields, we have postdocs appointed in many STEM, humanities, liberal arts, and social science fields. The goal of OPA and the PDA is to foster an open and welcoming community of postdocs and a robust professional development training program that will be beneficial to ALL postdocs, regardless of field of study or future career choice, by focusing on building key skills and preparing you for the next step in your career through career exploration and job search preparation.
Where do UIC's postdocs land after their postdoc training? Thanks to Academic Analytics, now we know! Academic Analytics located 12 years of UIC postdoc alumni (1204 out of 1697 postdoc alumni) who left UIC between 2010 and 2022. UIC postdoc alumni are located in institutions and companies all over the world! The top 10 employers of UIC's postdocs are: 1) UIC; 2) Northwestern University; 3) The University of Chicago; 4) Abbott; 5) AbbVie; 6) Rush University; 7) Argonne National Laboratory; 8) Baylor College of Medicine and T-9) Harvard University, Loyola University Chicago, New York University, Ohio State University, and Pfizer.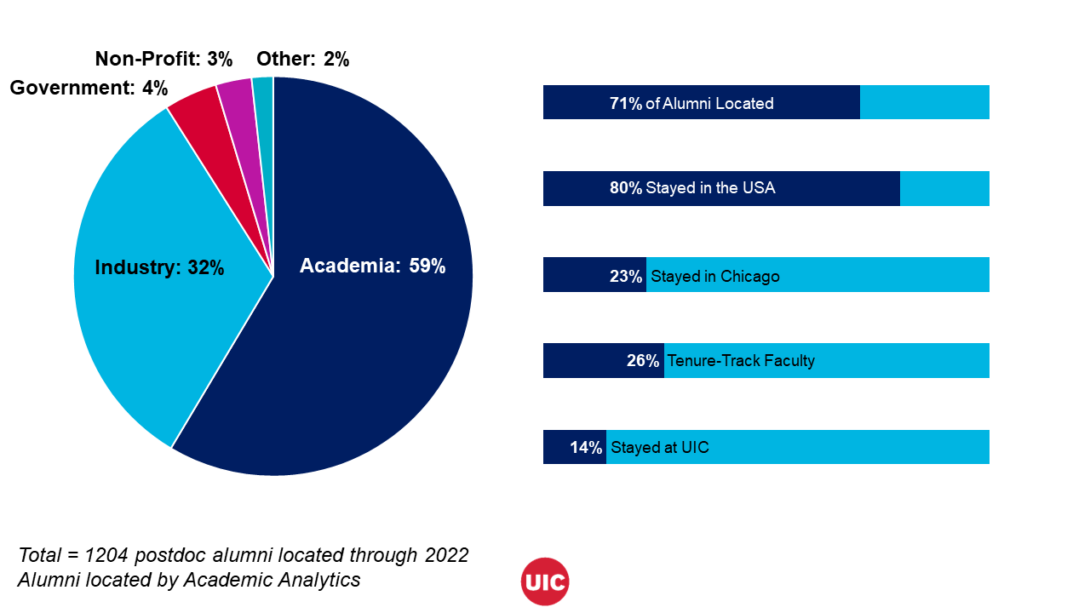 To build a strong postdoc community and help connect postdocs across campus, the PDA publishes a quarterly newsletter to celebrate postdoc accomplishments, recap events and topics of interest to postdocs, and showcase outstanding postdoc alumni. The PDA also conducts surveys to assess the needs of postdocs on campus.
Thinking about pursuing your postdoctoral training at UIC? Check out these positions open currently and learn more about why you should choose UIC and things to consider when applying for postdoc positions:
Open Postdoc Positions
Outstanding Research Opportunities

UIC ranks among the nation's leading research universities and is Chicago's largest university with 33,000 students, 12,000 faculty and staff, 16 colleges, and the state's major public health system.

The Office of the Vice Chancellor for Research (OVCR) believes that research is fundamental to the success and mission of UIC and its students, faculty, staff, and postdocs.  We strive to grow, promote, advance, and safeguard research at UIC by conducting world-class research that advances the field of knowledge both locally and globally.

Prioritizing Diversity

From the Office of Diversity, Equity, and Engagement: UIC is one of the nation's most diverse public research universities. As a federally designated Minority Serving Institution, we strive to promote an organizational culture and structure, grounded on the principles of access, equity and inclusion. UIC welcomes students, staff and faculty from a variety of racial, ethnic, and class backgrounds, gender identities, sexual orientations, and abilities to cultivate a diverse learning community where human differences are embraced and neither difference nor disadvantage stands in the way of intellectual and professional achievement. Furthermore, we believe that by drawing upon these diverse perspectives, we are able to expand frontiers of knowledge as a national leader of innovative scholarship.

Guidance on Choosing a Postdoc Position

For guidance on choosing a postdoctoral position:

For guidance on choosing a mentor and assessing fit, check out this guide created by the UW-Madison Institute for Clinical and Translational Research.

After receiving an offer for a postdoc position, postdocs can negotiate their salary. Postdocs may also ask about relocation assistance and health insurance assistance (if you will be ineligible for state benefits at the time of hire).
Are you a new postdoc at UIC? Tell us a little bit about yourself by filling out this short entrance survey.
The Office of Postdoctoral Affairs (OPA) hosts an hour-long New Postdoc Orientation on a bimonthly basis. Join the listserv and keep an eye on your email for announcements regarding upcoming orientations. You can register for the next new postdoc orientation session by completing the postdoc entrance survey.
Finding Housing

Expense, commute time, and safety are among the many considerations when identifying housing. The following websites will help get you started.

NOTE: The PDA does not endorse any housing location service.

Check the following listings for availability:

In some areas a background check (check of your credit history) might be required. You might be asked to pay a fee in order to do the background check. Without credit history the background check is useless as well as the fee but your application might not be accepted without it.

Neighborhood information:

For international postdocs sponsored by UIC

If you need temporary housing as you are making the transition to UIC, short-term furnished on-campus housing is available to you. Learn more here.
Check in with the Office of International Service (OIS) and find out who your International Scholar Advisor is. Click here for OIS office hours and location.
If you have general questions regarding immigration, you can also visit the US Citizenship and Immigration Services website.
Apply for a Social Security Number/Card (SSN):

Specific information for Chicago can be found here.
Detailed information regarding the requirements and how to apply for a SSN can be found at the OIS website.
NOTE: In order to apply for a SSN You have to be in the U.S. for at least 10 days and your SEVIS records have to be validated.
The SSN verifies your identity. All information (bank, health insurance, salary etc.) is connected to your SSN. NEVER EVER send it out by email or give it to random people. It takes 1-2 weeks to get your SSN.

Open a bank account:

Please note that UIC doesn't endorse any single bank, financial product or resource.
A passport is enough to open a bank account, but you have to provide your SSN as soon as you receive it.
Your credit history is attached to your SSN

Determine if you need to obtain an Illinois driver's license and obtain a Chicago City Sticker if you reside in Chicago and will have a car in the city.

Tax Information

NOTE: It is against the law for anyone who is not a tax expert to give advice regarding tax issues. If you have questions about taxes, we recommend reaching out to a tax professional. If you have questions about the taxes withheld from your paycheck, you can reach out to UIC Payroll.

The National Postdoctoral Association (NPA) has compiled an overview of tax information for postdocs, which is summarized below. For more detailed information, visit the NPA section on Tax Issues for Postdocs.

DISCLAIMER: This information below is for informational purposes only and does not constitute tax or legal advice. If you want tax or legal advice, please contact a qualified tax professional/lawyer.

The inherent complexity of the postdoc appointment, from its temporary nature to multiple funding sources to its visa implications, means that the financial circumstances of many postdoc will be unique. While this guide can provide general information, postdocs with more complex concerns are encouraged to seek out professional advice on their individual situation.

Any support a postdoc receives that is used to cover "living expenses" (as opposed to, say, tuition and fees) is subject to income tax. How that tax is paid typically depends upon the type of funding and the postdoc's employment classification and citizenship.

Employee Postdocs (at UIC, Postdoc Research Associates are employee postdocs):



Tax Withholding
Postdocs who are U.S. citizens or permanent residents and are employed on grants or receive a salary from their institution through the "standard" payroll disbursement will have federal tax withholdings taken out of their paychecks. For postdocs who are temporary residents, please refer to the NPA section on international postdocs, which is also summarized below. The amount of this tax withholding depends upon the individual circumstances of the postdoc, including total income, status of dependents, and any tax treaty status for international postdocs.
Upon starting a new appointment, "employee" postdocs should fill out a federal withholding form, IRS Form W-4. In states with an income tax (Note: Illinois is a state with income tax), postdocs should also complete a state withholding form in order to set the amount of this withholding. It is very important that the withholding be calculated in as much detail as possible in order to avoid paying too much or too little tax over the course of the tax (calendar) year.
Tax Filing
All employee postdocs must file a tax return between January 15 and April 15 for the previous tax year. In order to fill out the tax return forms, postdocs will need to have received a W-2 form from their employer that lists their wages and salary accrued for the year. If too little has been paid, a postdoc risks a large payment of the balance and possibly a penalty.

Postdoc Fellows ("Non-employee" Postdocs or Postdocs on Fellowships):

Fellowships are Taxable Income
Virtually all postdoc fellowships funded from U.S. sources are subject to income tax because they pay for living expenses. However, often fellowships and traineeships are not subject to automatic tax withholding (note: you will not receive a W-2 from UIC). This is most often true with "direct-paid" fellowships — fellowship stipends that are paid directly to the postdoc — although it is sometimes the case with fellowships that are paid through the institution.
Estimated Payments
Those fellowships without automatic tax withholding are still subject to the IRS requirement that income tax be paid on a regular basis throughout the tax year, and not all at once at the end of the year. Thus, postdocs without withholding should make estimated tax payments each quarter in order to avoid a penalty. Use IRS Form 1040ES for estimated federal tax calculations and payments, and find the equivalent form for estimated state taxes (IL-1040-ES). See the IRS help topic on Estimated Taxes and more information about Illinois estimated taxes, here.

International Postdocs:

International postdocs are subject to U.S. federal and state tax laws; however, qualified residents of some countries may have tax treaties that make them exempt from U.S. taxes or   provide other benefits. Those who intend to pay taxes in the U.S. typically have the same automatic tax withholding as employee postdocs. Tax-exempt postdocs, however, may or may not have taxes withheld, depending on the institution and nature of their appointment.

Tax Filing
International postdocs must always file a federal tax return since it provides the vehicle for either claiming tax-exemption or for declaring (and perhaps paying) taxes owed. The need to file state tax returns varies widely depending upon the state and the amount of time an individual was physically present there. Those who are tax-exempt but who still have taxes automatically withheld from their paychecks will need to file a tax return to receive a refund of their withholdings.
Resident or Non-Resident?
An international scholar's status as a resident or non-resident for tax purposes is different than his or her status for immigration purposes. The IRS determination depends upon several factors, including treaty status, visa status, and the amount of time the scholar was physically present in the U.S. The IRS Guide for Foreign Students, Scholars, Teachers, Researchers and Exchange Visitors includes a section on "Residency for Tax Purposes" that can help postdocs determine their status and thus which federal tax form they should use.

Other Tax Information:

Transportation

Chicago offers many options for public transportation, and UIC offers resources for all your preferred ways of commuting, including parking and biking resources, as well as campus shuttles.
Resources for a Diverse Community of Postdocs at UIC Heading link
"UIC is one of the nation's most diverse public research universities. As a federally designated Minority Serving Institution, we strive to promote an organizational culture and structure, grounded on the principles of access, equity and inclusion. UIC welcomes students, staff and faculty from a variety of racial, ethnic, and class backgrounds, gender identities, sexual orientations, and abilities to cultivate a diverse learning community where human differences are embraced and neither difference nor disadvantage stands in the way of intellectual and professional achievement. Furthermore, we believe that by drawing upon these diverse perspectives, we are able to expand frontiers of knowledge as a national leader of innovative scholarship." From the From the Office of Diversity, Equity, and Engagement
For international postdocs

For international postdocs sponsored by UIC, contact your International Scholar Advisor at the Office of International Service (OIS) for any question regarding your visa status or immigration. They will provide you immigration service and advice. Any change should be reported to OIS. They will assist you in transferring your paperwork in case you want to change research groups. You can reach out to OIS for immigration questions by email: oisscholar@uic.edu or oisJ1@uic.edu.

For Underrepresented (URM) Postdocs

For LGBTQ postdocs

The Gender and Sexuality Center (GSC) promotes deeply engaged and life affirming thinking, learning, and action with students, faculty, staff, alumni, and community members. Through programs, initiatives, events, and workshops, the GSC creates a more inclusive campus and catalyzes positive social change in the world. Underlying the Center's work is an understanding of intersecting identities and the multiple layers of diversity within LGBTQIA+ identities including race, class, ability, geography, immigration status, and religious affiliation.

For Postdocs with Disabilities

The Disability Cultural Center offers public programs, discussion series, arts-based workshops, and one-on-one support — as we work to engage an understanding of disability as a social justice issue and a site for identity, community, and culture. Our Center is for everyone. We welcome students, staff, faculty, community members; we welcome Disabled, Deaf, Sick, and Mad people; nondisabled allies/accomplices; people with conditions who may or may not identify as disabled; and people who are thinking through their relationship to disability identity. We're so glad you're here.

For Female-Identifying Postdocs

The  Women's Leadership and Resource Center (WLRC) provides educational programs that affirm the diverse needs of woman-identified people on campus. We work to promote gender equity by raising awareness of women's and gender issues, developing women's leadership, celebrating women's accomplishments and contributions, and encouraging self-care and spiritual well-being.

WLRC houses the Campus Advocacy Network (CAN) program, through which we offer resources–crisis support, advocacy, education, training–to address interpersonal violence (sexual harassment/violence, stalking, domestic violence) in individual, community, and institutional contexts.

WLRC provides a welcoming, safe, and inclusive space for people of all genders that encourages dialogue and diversity.

For Expecting and Parent Postdocs

For Mental Health and Wellness

Taking care of yourself is important. Remember: it's OK to take time outside of research to focus on wellness. There are many things you can do to take care of yourself, including hobbies or recreation. For example, UIC Campus Recreation offers discounted memberships for members of the UIC community.

Mental Health Resources at UIC

If you are finding that you need someone to talk to, check out these resources that are available to you at UIC:

Office of Applied Psychological Services (open to all members of the community)
Employee Assistance Service (open to all UIC employees)

Clinical Sciences North (CSN)
Room 365
820 S. Wood Street
Chicago, IL 60612
Call: 312-996-3588

State of Illinois Employee Assistance Program (open to postdoc research associates who are eligible to receive state benefits)

ComPsych is an off-site program offered by the State of Illinois as a private and confidential resource, providing self-guided apps, counseling, and referrals for you and your eligible dependents
ComPsych EAP has a 24/7 phone line — 833-955-3400

UIC Campus Advocacy Network (CAN) advocates provide free, confidential advocacy to UIC community members who experience interpersonal violence such as domestic/dating violence, sexual assault, family abuse, harassment, and stalking.
NOTE: postdocs are not eligible to use the UIC Counseling Center (available only to students who have paid the Health Service Fee as part of their tuition)

Other Mental Health and Wellness Resources Available to You

For Nondiscrimination, Harassment, and Conflict Resolution

The Office for Access and Equity (OAE): strives to increase access to employment, programs, and services in an environment free of unlawful discrimination and harassment.

Is your research funded by NIH? You can notify NIH about a concern that harassment or discrimination (including but not limited to sexual harassment and racial discrimination) is contributing to an unsafe or hostile work environment affecting an NIH funded project at a grantee institution. Learn more and access the reporting form, here.
UIC Postdoc Alumni: Leaving Your Postdoc Position and Staying Connected! Heading link
When you are leaving your postdoctoral position, there are several important steps that need to be taken prior to separating from your position and/or the university:
Check out the employee self-exit checklist and resignation/retirement form, which are located under the separation tab of the HR forms site.

According to the check list, a signed resignation letter should be submitted at least two weeks in advance of your last day of work. The resignation/retirement form or letter must specify the last date of work. E-mail is sufficient however employees can complete the resignation/retirement form.

Reach out to your departmental HR representative, who will be able to advise on any questions you may have.
Please take a few minutes to respond to the UIC Postdoc Exit Survey, and answer a few questions about:

Your contact and personal information
Your experience as a postdoc at UIC
Your job search and next position
Your willingness to stay in touch with the UIC OPA & PDA

We would love to stay in touch, so if you'd like to stay connected, please join the UIC Postdoctoral Association LinkedIn group!
Important Notes:
Postdoctoral research associates hired on or after 8/16/2019 shall be ineligible for vacation termination pay and their vacation leave shall not transfer to any position that is not postdoctoral (i.e. postdoctoral research associates are ineligible to be paid-out for unused vacation time after ending their postdoctoral appointment).
Postdocs who terminate their position with the university MAY be eligible for COBRA continuation of insurance coverage. The Consolidated Omnibus Budget Reconciliation Act (COBRA) provides eligible covered State of Illinois Employees Group Insurance Program (SEGIP) participants and their eligible dependents the opportunity to temporarily extend their health coverage when coverage would otherwise end due to certain qualifying events. To be eligible for COBRA, you (or your eligible dependent) must be enrolled in a SEGIP health plan the day before the qualifying event occurs.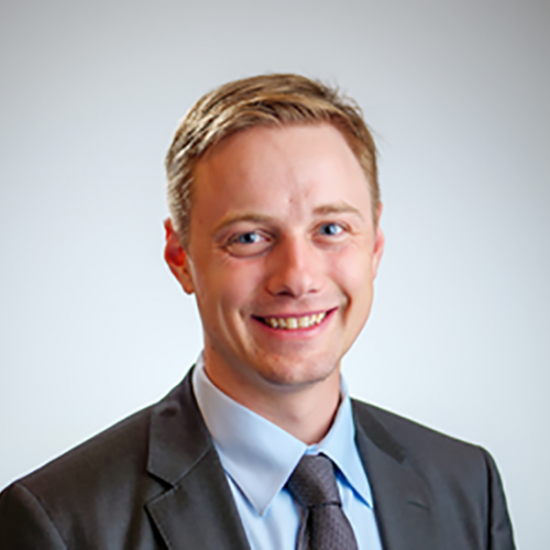 I interviewed and got hired during the pandemic and it requires a little bit of adjustment and a little more work but is definitely doable. The best advice I can give postdocs who are looking to break into equity research is to have a demonstrated interest in the public markets and investing in biotechnology companies…I'd recommend getting involved in the UIC Postdoctoral Association as many of the people I worked with over the years at the PDA helped me enormously with preparing for job interviews and giving me access to people who in their networks who they thought could help.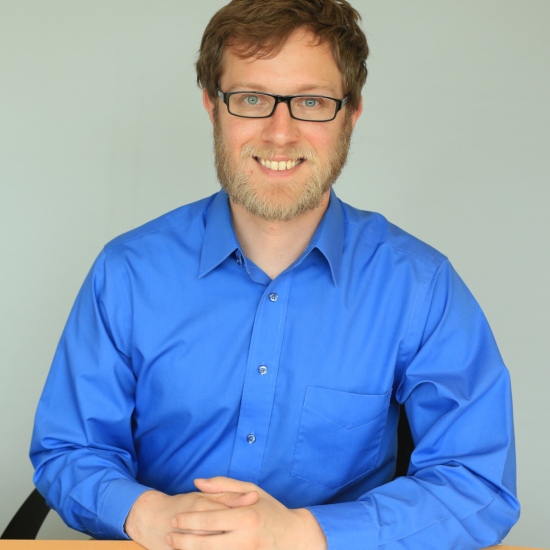 My advice to postdocs applying for faculty positions, pandemic or not, is do not give up. Keep publishing, keep writing award applications, and keep applying for faculty positions. While it may feel impossible to land a job most places now with hiring freezes in place at many institutions, you never know. Keep searching.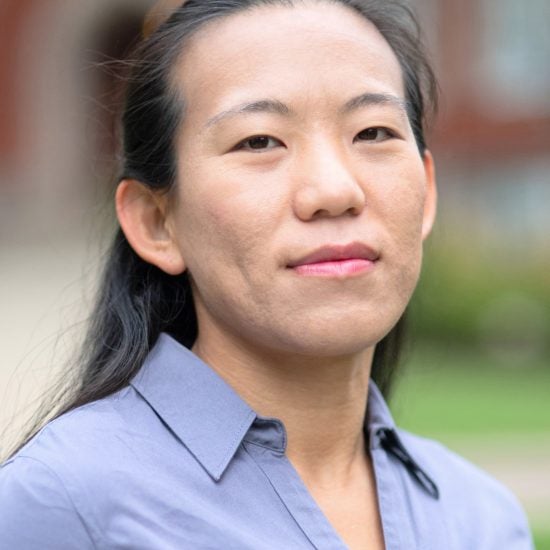 Well, this sure is a very interesting time to find jobs and the common wisdom might not be so reliable right now… So the first suggestion/experience is to acknowledge that nobody, including interviewers and interviewees, really knows how to do this…The second suggestion/experience is to fully take advantage of the online setting. Since the schedule would be set, you would know the name of the persons you are going to meet. So do your homework and be prepared to have engaging conversation[s].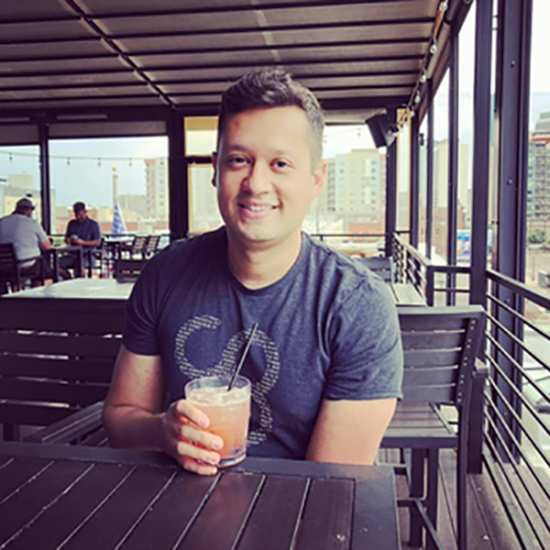 Social and soft skills are equally important as your expertise in the field. You must be a very good communicative person while you excel in your area. Social skills will help to build your industry network and people will keep you in mind once the opportunity shows up. Keep your LinkedIn always updated/organized and let the job come to you instead of wasting too much time hunting for one. Reaching out to people on LinkedIn to make an introduction and to discuss your work area is more effective in making a transition than investing in cold applications