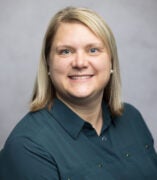 Stephanie Cologna, Ph.D.
Associate Vice Chancellor for Research in STEM
Contact
Address:
1737 W Polk St, Chicago, IL 60612
Office Phone:
Email:
About
Stephanie Cologna has served as Associate Vice Chancellor for Research since May 2021. Dr. Cologna joined the University of Illinois Chicago (UIC) in 2015 and is on the faculty in the Department of Chemistry.  She also holds courtesy appointments in the Department of Biological Sciences and the Graduate Program in Neuroscience.  Her research interests lie at the intersection of analytical chemistry, biochemistry, molecular biology and human health.  Her
lab
uses mass spectrometry to study neurodegenerative disorders including rare, genetic, lysosomal storage diseases.  Dr. Cologna is federally funded by the National Science Foundation, the National Institutes of Health and private foundations.  She is also very active in the mass spectrometry, proteomics, lipidomics and Niemann-Pick Disease communities. At UIC, Dr. Cologna serves as the Mass Spectrometry Core faculty advisor and within OVCR is excited to enhance STEM research activities across campus. She received her B.S. (Chemistry) from the University of Arizona, her Ph.D. (Chemistry) from Texas A&M University and carried out postdoctoral training at the National Institutes of Health (NICHD, NIH).