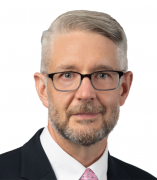 Richard A. Gemeinhart, Ph.D.
Associate Vice Chancellor for Research and Research Integrity Officer
Contact
Address:
1737 W. Polk St., Chicago, IL 60612
Office Phone:
Email:
About
Rick Gemeinhart has served as the Research Integrity Officer in the Office of the Vice Chancellor for Research at the University of Illinois Chicago since late 2014 and in March 2020 was appointed as an Associate Vice Chancellor for Research.
Professor Gemeinhart holds appointments in the Department of Pharmaceutical Sciences in the College of Pharmacy, the Departments of Bioengineering and Chemical Engineering in the College of Engineering and the Department of Ophthalmology and Visual Sciences in the College of Medicine at the Professor level. His research focus is on understanding the use of polymers to control the local release of therapeutic molecules and the understanding of the influence of polymers on cellular phenotype.
Named as a Society for Biomaterials Young Investigator, American Association of Colleges of Pharmacy New Investigator and Vahlteich Scholar at UIC, Professor Gemeinhart has received funding from the National Institutes of Health (NIH), the National Science Foundation (NSF) and the Department of Defense (DOD) as well as from several foundations.  He has served as a reviewer for federal agencies (NIH, NSF, DOD), is currently an editor of Pharmaceutical Research and also serves on the editorial boards of two additional journals.
Professor Gemeinhart earned both his undergraduate degree in Interdisciplinary Engineering and his doctorate in Pharmaceutics from Purdue University and completed a postdoctoral fellowship at Cornell University School of Chemical and Biomolecular Engineering before joining UIC in 2001.