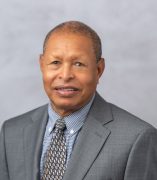 Daniel Gebre
Director, Finance & Business Operations
Contact
Building & Room:
310 AOB, MC 672
Address:
1737 W. Polk St., Chicago, IL 60612
Office Phone:
Email:
About
Dr. Gebre is Director of Finance and Business Operations overseeing the financial operations of all units reporting to the Office of Vice Chancellor for Research (OVCR) and develops, implements, and monitors annual budgets and long range financial planning.
Prior to joining the OVCR in April 2018, he had 20 years of financial leadership experience in K-12 and higher education including overseeing the financial operations of Bowling Green State University Academic Affairs, Baltimore City Community College, and Milton Hershey School. He led financial services teams and developed annual operating and capital budgets, long range financial planning, financial policies, financial statements, board reports and directed external audits including single (A-133) audit.
Daniel earned a Bachelor of Science in Accounting and a Master of Business Administration (MBA) in Business Administration from Penn State University and a Doctorate in Higher Education Administration from Temple University and holds an active CPA license.