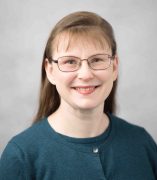 Rebecca Milczarek, Ph.D.
Assistant Director
Office of Research Development
Contact
Address:
1737 West Polk Street, Suite 310 Chicago, IL 60612
Email:
About
Dr. Rebecca Milczarek is Assistant Director of Research Development. In this role, she assists with the identification, development, preparation and submission of research grants; acts as a research development resource to faculty pursuing external funding to advance the university's research portfolio; and coordinates both individual grant-seeking efforts and larger team-based research proposal initiatives.
Prior to joining UIC, Rebecca was a Research Agricultural Engineer/Lead Scientist with the United States Department of Agriculture – Agricultural Research Service (USDA-ARS). At the USDA-ARS Healthy Processed Foods Research Unit in Albany, California, she provided technical leadership to a team of Ph.D. scientists, M.S. technicians, postdoctoral researchers, and visiting scientists on a Federally-funded food process engineering research project, with a focus on improving the environmental sustainability of the processing of specialty crops (fruits, vegetables, and nuts). She also led several related grant-funded research projects and Cooperative Research and Development Agreements (CRADAs), collaborating with academic and industry partners, respectively, on these projects.
Rebecca holds a B.S. in Chemical Engineering and an M.S. in Food Science & Human Nutrition, both from the University of Illinois at Urbana-Champaign. She holds a Ph.D. in Biological Systems Engineering (Major: Food Process Engineering, Minor: Statistics) from the University of California, Davis.